The IB is a wonderful model, which gives everyone here at Fint an opportunity to evolve as thinkers and open-minded people working together to learn about the world
Fagerhaug International School is like a melting point! – Hana
In this interview two of our International Baccalaureate (IB) teachers give us an in-depth view of how they experience being a part of Fagerhaug International School (Fint).
Tyler Slostad (48) and Hana Baker (49) are an American couple from Winthrop – a small community in northern Washington State. They have many years of varied teaching experiences from the US. Even before Tyler and Hana had children, they planned on teaching abroad; however, they struggled to find the right time and location. As the children got older the topic surfaced in family discussions and the family decided to go for it. They started searching for schools in different countries, but most of the places were too big, or did not match other criteria. Then two years ago Tyler and Hana started to discuss the opportunity with Fint and it seemed like a perfect match!
Hana and Tyler have very different teaching responsibilities at Fint. Hana teaches in the Primary Years Program (PYP). She is the class teacher for 2nd grade and the art teacher in 1st and 2nd grade. Tyler is in the Middle Years Program (MYP) teaching science in 7th to 10th grade, English in 8th grade and math for students with additional needs.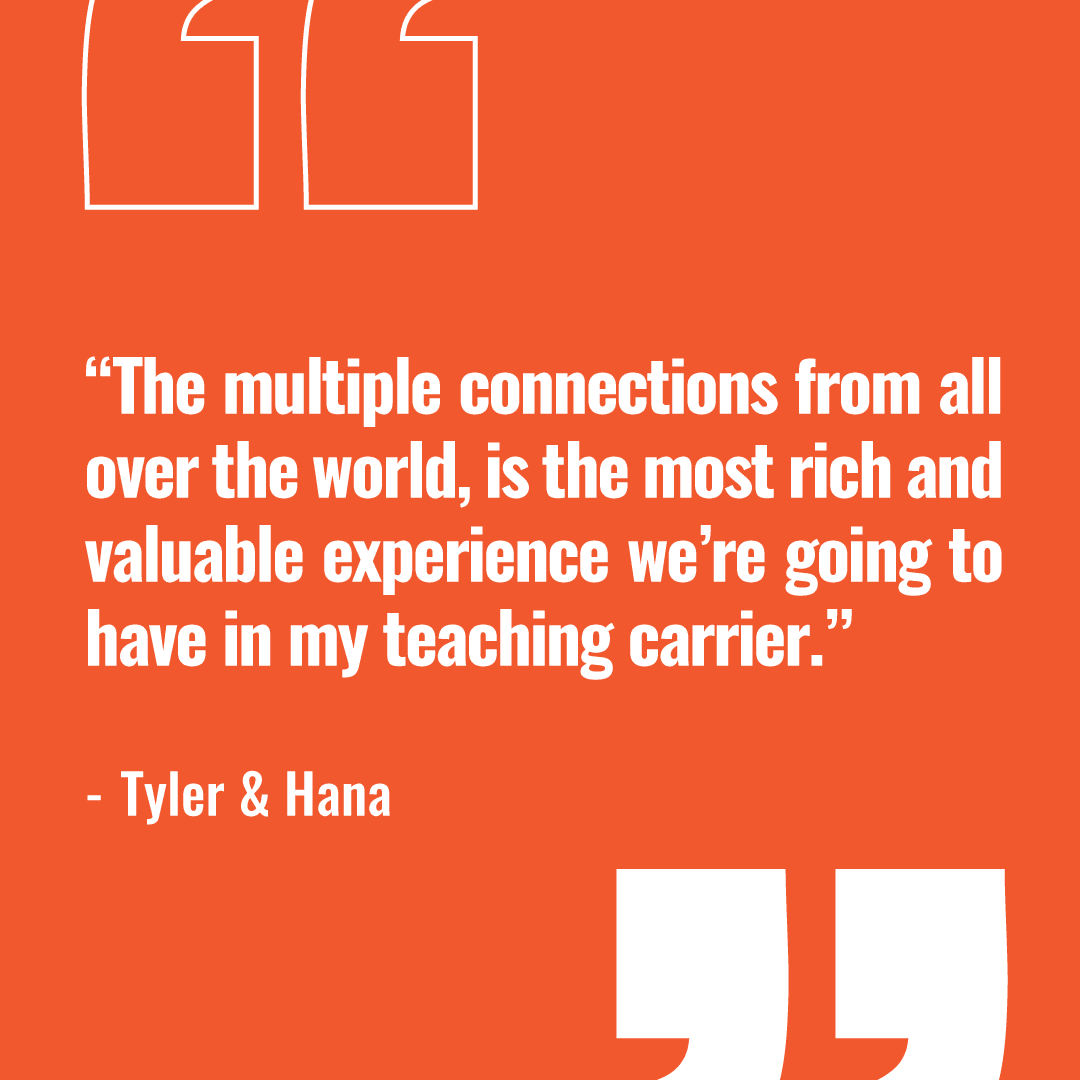 Why are you passionate about teaching?
Children bring us joy! They are our most important resource in the world. We feel so grateful to be able to help them spark their curiosity and teach them about differences in cultures around the world. For example, when teaching science, we can help them understand more about how the world works. We love to see kids learn, both theoretically and practically, through acquiring new skill sets.
We learn a lot from the children as well. They keep us young, up to date, and have shown us that we are learners throughout our lives. We will continue to build on the knowledge gained from the students at Fint for a long time to come and share these experiences with our school in Winthrop.
The students at Fagerhaug International School are my heroes – Tyler
Traveling and moving to a new country is a big step, what made you come to Norway – and, specifically, Fagerhaug International School?
We love to travel and learn through experiencing different cultures. We have been passionate about being able to teach in an IB school outside of the United States. In hopes to create the best experience for our family, we decided on a place that was small and similar to home. It also felt like the quality of living in Norway would be better than in most other countries. Simply put, Fagerhaug International School looked like a perfect match for our family.
We contacted Fint and got in touch with Cherise, the principal. However, Covid forced us to delay the teaching opportunity for a year but when Covid had settled a little, we reconsidered the idea. For us Norway felt like the safest country to choose while the pandemic was still an issue; so with a lot of help from Cherise and the staff at Fint, our family finally was allowed to travel and work here in Norway.
What is special about Fint?
There is such a diverse community here at Fint, and it is amazing to be in a class with kids from all over the world. Every class has multiple languages, cultures and connections – it is beautiful. The many differences in cultures and languages help us and the students understand each other. Fint also has a perfect mix of Norwegian and international teachers, which gives us the opportunity to learn more about different cultures and ways of living.
The multiple connections from all over the world, is one of the most rich and valuable experiences we're going to have during our teaching careers – Tyler & Hana.
Working in a small school and having small class sizes allows us to give more attention to each student. This one-to-one support and small group learning allows us to meet each student's needs and have more learning occur. We believe that because of the small class sizes at Fint we can get to know each child's story and see their differences in a unique way. This is an experience that we could have only had at an international school and it has given us a lot more clarity on how to teach students that are learning the English language, and how to help second language learners when we return to Washington State.
Also, the IB is a wonderful model, which gives everyone here at Fint an opportunity to evolve as thinkers and open-minded people working together to learn about the world, as the model has a primary focus on sustained substantial projects instead of small, multiple assignments. The IB model is the same regardless of teaching in the United States or Norway; however, due to where we live in Washington there are less cultural differences.
What is the biggest change you have seen in the students within the time you have been at Fint?
"The most eye-opening experience for me was that I was going to teach in English – but compared to the United States, the students here are also learning English – so I had to find and adapt methods to teach so that everyone could understand." – Tyler
What we notice the most is the growth in language skills from day one to now, and how confident and fluent the students are when speaking English with us. The same has happened with their excitement to read and write. Now we are able see students stand in front of their classmates and shine with confidence while they do a presentation, and there is no doubt, they are proud of the work they have done. And so are we!
Why should parents consider enrolling their children at Fint?
Fint's primary focus is on providing the best opportunities possible for the students. The attention and support available to the students from our amazing, professional staff here is just incredible. The staff is caring and have a lot to offer, and everyone here is working hard to help the students with their learning and to meet their needs.
With the small class sizes and long-term projects, the IB teaching model is multi-faceted. and helps build character. It provides learning environments with wide cultural differences and with benefits that creates internationally minded students.
Fint focuses on what's best for the kids – Hana